Meet Dr. Erin Bourque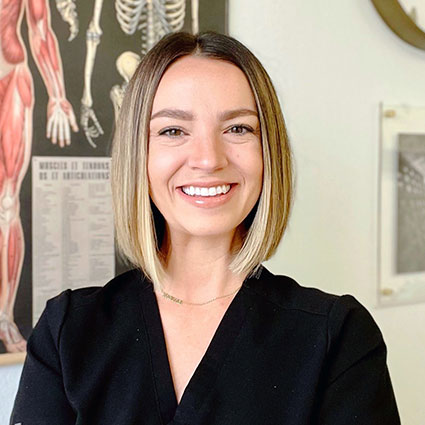 Dr. Bourque was putting herself through college as a waitress when a customer who was impressed by her work ethic offered her a job as a chiropractic assistant in his office. She knew nothing about chiropractic, but she was fascinated. Seeing how chiropractic care dramatically improved patients' lives was all it took-Dr. Bourque knew then that she wanted to become a chiropractor herself.
Taking a Leap of Faith
With encouragement from the chiropractor she worked for, Dr. Bourque took a leap of faith in herself and attended Texas Chiropractic College in Pasadena, Texas. While there, she was awarded prestigious internships at Rice University Athletic Department and University of Houston Clear Lake's Health Center. She graduated with her Doctor of Chiropractic in 2016 and returned to Clear Lake, opening Enerchi Chiropractic and Wellness, PLLC in 2018. Dr. Bourque is a membership of the Texas Chiropractic Association and the International Chiropractic Pediatric Association.
Love of Learning
Dr. Bourque is driven to constantly improve her skills, and she does that by being keenly aware of how patients respond to her care, fine-tuning her approach based on each body's response.
Her passion for chiropractic has only intensified in the years that she's been practicing, as she's seen more and more examples of how safe and conservative chiropractic adjustments can change the lives of her patients and their entire families.
We offer the following chiropractic techniques:
Diversified
Webster Technique (certified)
Drop Table
Activator Method® (certified)
Enjoying an Active Family Life
When Dr. Bourque has time off, she spends it with her husband Parker and their young son Levi. They love visiting farmers' markets and children's museums, taking road trips to Austin or San Antonio, and going on family bike rides. Parker competes in triathlons, but the rest of the family prefers more leisurely biking. Dr. Bourque loves to cook and writes blogs about cooking and healthy eating.
Take the First Step
We'd love to welcome you into our practice! Contact us today to learn how chiropractic care can help you.
---
Dr. Erin Bourque | (832) 569-2089