Pediatric Chiropractic at
Enerchi Chiropractic and Wellness, PLLC
Why Do Kids Need Chiropractic Care?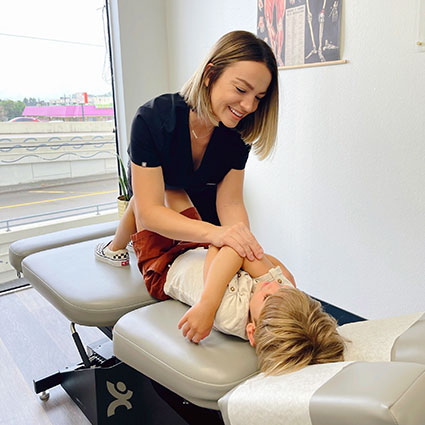 Children's bodies are constantly growing, stretching, and changing, and all that growth can cause imbalances and discomfort. "Growing pains" is a real thing, and chiropractic care is a safe way to help restore balance and alleviate those growing pains.
We've treated patients as young as one month, and we're happy to care for children of any age. We encourage parents to go with their gut because they know what's normal for their child. If something seems off or not quite right about your child's posture or gait or even their behavior, we would be happy to see them and help you decide if chiropractic is the right approach.
Because children haven't built up the soft tissue problems that adults have, they typically don't need the soft tissue therapies we offer. We do recommend wellness chiropractic care since kids' bodies never get a rest from the rigors of growing.
Providing Gentle Adjustments
For infants, the pressure of an adjustment is about the same as you would use to check a tomato for ripeness. For kids, Dr. Bourque generally uses the Activator®, which is also very gentle. To help kids get comfortable with the process, she shows them how the instrument works and lets them try it out on her or their mom. She makes it fun, and kids usually enjoy being adjusted.
A Patient Success Story
One of our favorite pediatric success stories was helping a patient who had severe musculoskeletal complaints as a result of Tourette Syndrome and tics. Chiropractic care can't cure Tourette Syndrome, but our care relieved the muscle pain and alleviated the side effects of his condition. Dr. Bourque also helped his mom make some healthy dietary and lifestyle changes, and this combination had a profound effect on the family's quality of life.
Help Your Kids Feel Better
Contact us today to learn how chiropractic care can benefit your child!
CONTACT US »
---
Pediatric Chiropractor Clear Lake TX | (832) 569-2089