Pregnancy Chiropractic at
Enerchi Chiropractic and Wellness, PLLC
Chiropractic care is incredibly safe during pregnancy-nothing we do moves the baby itself. Our gentle adjustments are designed to help restore balance to the body as it goes through the rapid changes associated with growing another human being.
Our Approach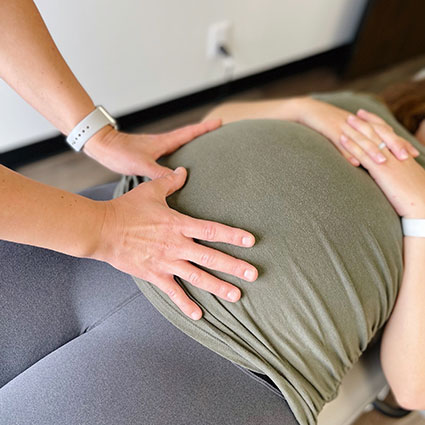 At Enerchi Chiropractic and Wellness, PLLC, we have a special intake form for our pregnant patients to give us a clear picture of exactly what's going on with their pregnancy. We also do an extremely thorough evaluation, to make sure there are no contraindications to treating you.
Dr. Bourque is certified in the Webster Technique, and she applies an extra-conservative approach to adjusting our pregnant patients, utilizing a special drop table combined with gentle myofascial release work when needed. She also takes the time to explain everything very thoroughly, answering any questions you may have, and tailoring treatment to your individual needs and comfort level.
Benefits of Pregnancy Chiropractic
During pregnancy, your body releases a hormone called relaxin. As its name implies, relaxin causes the ligaments of your body to relax, which helps prepare the pelvis for childbirth. However, relaxin doesn't affect just the ligaments of your pelvis-it affects all the ligaments of your body, which means all of your joints are much more mobile than they are normally, causing muscle tightness and pain.
Chiropractic adjustments provide a tremendous amount of pain relief. We also teach our pregnant patients safe exercises they can do to help strengthen the areas most affected by these loosened ligaments. The closer you get to your due date, the more relaxin is released by your body, so you may want to get more frequent adjustments at this time to keep your body balanced and your muscles working optimally.
Start Early
Pregnancy is an exciting time, and we want to help you enjoy it as much as possible. Regular chiropractic care from the beginning of your pregnancy can help keep you comfortable. We are happy to work in conjunction with your other childbirth care providers, including midwives and OB-GYNs. Contact us today to schedule your first pregnancy chiropractic appointment.
CONTACT US »
---
Pregnancy Chiropractor Clear Lake TX | (832) 569-2089